Conversations About Tier One
October 2008
If you have arrived at this website, something must have piqued your curiosity about The University of Texas at Dallas. Whatever your reason for visiting, I welcome this opportunity to share my vision and help you get to know UT Dallas better.
We are a relatively young institution at 45 years and counting, and some people have not yet heard about our reputation and standards for excellence, while others may carry an image of the campus of many years ago. If so, you will be surprised to find out how much we've changed.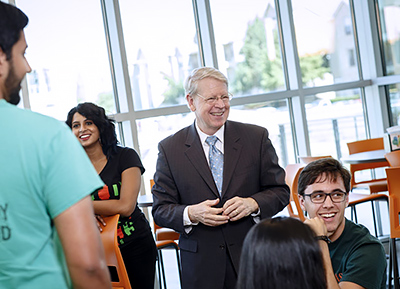 During the past decade UT Dallas has experienced explosive growth and has become a diverse and dynamic undergraduate and graduate institution with a greater mandate to bring Dallas and the entire Dallas-Fort Worth region to the forefront of higher education.
Here at UT Dallas, we embrace innovation, collaboration and a multidisciplinary approach that will help us become one of the "great universities of the world." Of the 10 most economically productive metropolitan areas in the United States, the Dallas-Fort Worth Metroplex is the only one that lacks a world-class academic research university. Working collaboratively with others, we intend to change that.
David E. Daniel
President, 2005-2015
UT Dallas' Four Points of Excellence
In higher education circles, the term "excellence" is not used flippantly. A university's reputation hinges on its ability to achieve excellence by having high standards and maintaining them even through periods of growth and change.
UT Dallas has done just that, and offers unwavering excellence in four key areas:
1) The Quality of Our Students
Our students can compete with the best. UT Dallas' undergraduate student profile matches or exceeds the quality of the nation's best research universities.
For the last several years, the freshman class at UT Dallas has had the highest average SAT score of any public university in Texas.
2) The Quality of Our Programs
Our academic programs are focused on the university's core strengths in high-quality science, technology, engineering, and business education and research.
As a young university, we are able to adapt and change easily, offering innovative coursework and multidisciplinary areas of study. UT Dallas recently added innovative programs in arts and technology, communications sciences and disorders, cognition and neuroscience, computer engineering, software engineering, bioengineering, geospatial information sciences and public affairs — all designed to meet the rapidly changing needs of the Dallas-Fort Worth Metroplex and the nation.
Our programs in audiology and management are recipients of prestigious national rankings.
UT Dallas is also strong in programs emphasizing joint majors, like business and biology, and in educating teachers in core disciplines rather than in generic education programs.
3) The Quality of Our Faculty
Our faculty consists of some of the nation's best scholars and researchers. Among them are Nobel Prize winners as well as members of the National Academy of Sciences and the National Academy of Engineering.
During the last nine years, research expenditures have tripled.
4) Location, Location, Location
UT Dallas is located in one of the top four major metro areas in the United States.
The Dallas-Fort Worth Metroplex has great international and national airports, abundant job opportunities and a rapidly growing arts scene.
The surrounding area provides a variety of job opportunities for companions or spouses of UT Dallas staff and students.
The UT Dallas campus is surrounded by high-tech industries, ideal for mutual interaction as well as for employment of UT Dallas graduates.