Comet Cupboard Helps Students in Need during COVID-19 Pandemic
04.09.2020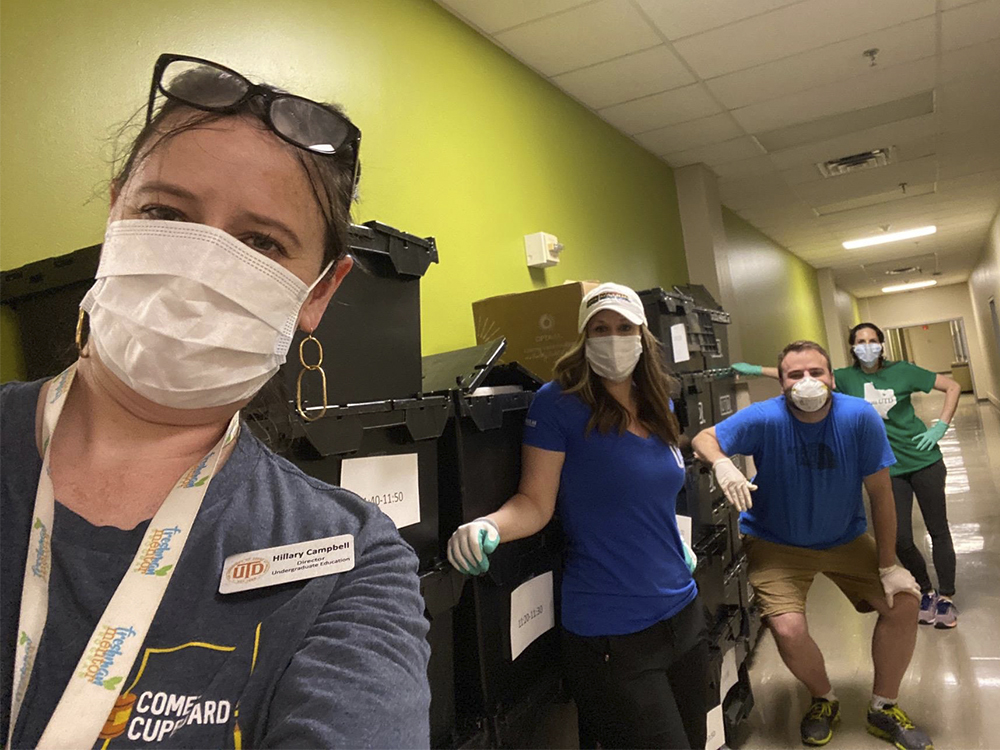 UT Dallas staff members Hillary Campbell, Courtney Brecheen, Matt Johns and Whitney Vela distributed emergency boxes of food and supplies to students during the first weeks of campus closure.
In the midst of a worldwide pandemic, one UT Dallas initiative is helping students battle food insecurity.
The Comet Cupboard has continued to provide relief to students in need these past few weeks.
Hillary Beauchamp Campbell, director of undergraduate programs in the Office of Undergraduate Education, said Comet Cupboard staff members knew that during these times of uncertainty, the campus food pantry would be a much-needed resource for some students.
Although the Comet Cupboard office is closed, the staff has been working to continue the organization's mission. The resource is available to all currently enrolled UT Dallas students and provides nonperishable food and personal care items. During normal campus operations, students may visit the food pantry twice per week, and student volunteers run the operation.
"Food insecurity on university campuses has hidden in the shadows for some time," Campbell said. "In 2012 the Office of Undergraduate Education responded to the need by opening the Comet Cupboard, the first university food pantry in Texas. It's hard to focus on being academically successful when you're hungry. The service helps meet that basic human need, while also providing an amazing on-campus service experience for students to help their peers."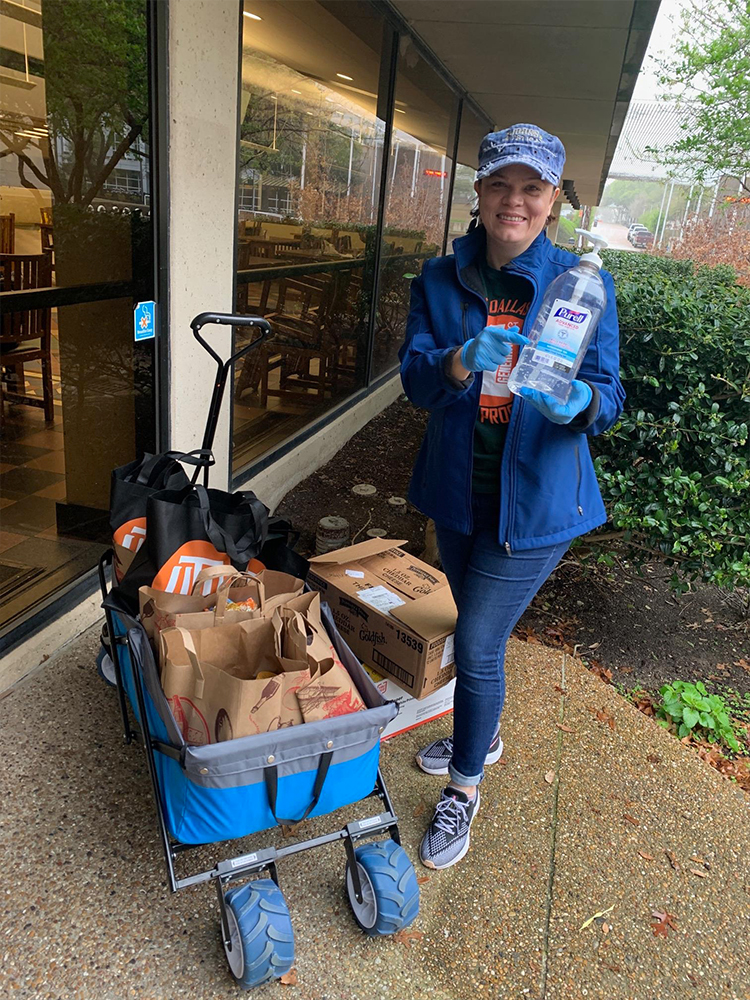 Daname Lucas, alumna and an administrative assistant in the Office of Undergraduate Education, assisted with the Comet Cupboard's March 16 distribution efforts.
During the first week of Spring Break, staff assembled approximately 50 emergency supply boxes from the cupboard's inventory and distributed the boxes on a first-come, first-served basis on March 16 in front of the Eugene McDermott Library.
Following the first event, the Comet Cupboard posted a form on social media to allow students to sign up for a second limited-distribution event and indicate what they most needed.
The Comet Cupboard volunteers were able to assemble 60 boxes, thanks to the support of the Richardson community. A large number of the food items, in addition to the boxes, were collected through a request to individuals in the residential neighborhoods surrounding campus.
"I knew we needed things quickly and understood how obtaining them wouldn't be as easy as just going to a grocery store to load up," Campbell said, "so a couple of blasts on my personal social media gathered a quick response from our immediate community. These items were collected from front porches or dropped on my front porch. This particular effort really was a rapid-response community effort."
On April 2 the UT Dallas Police Department assisted staff in distributing those boxes on a walk-up and drive-up basis outside the library.
The Comet Cupboard hosted another event this week. A donation from RUF International has boosted the organization's ability to meet the needs of students.
The staff aims to increase the number of boxes to distribute and also provide a delivery option for those living on campus.
How You Can Help
The Comet Cupboard continues to take donations and has some specific requests, since a majority of the students who use the service are vegetarians or have dietary restrictions. Cash donations are also accepted online.
Because of limited supply at grocery stores at this time, physical donations are preferred. To coordinate a physical donation, email [email protected].
Most needed items:
Dried pasta
Rice
Dried beans or vegetarian canned beans
Tomato sauce and canned tomatoes
Boxed or canned chicken, beef or vegetable broth
Hearty canned soups – vegetarian and non-vegetarian
Vegetarian canned pasta meals
Shelf-stable milk
Shelf-stable milk substitutes (oat, soy, almond, etc.)
Boxed mac-and-cheese
Canned or jarred fruit
Vegetarian pasta sauce
Vegetarian pouch or packaged meals
Breakfast cereal and oatmeal
Canned or bottled juices (without added sugar)
Personal care items – shampoo, soap, deodorant, toothpaste, dental floss
The Comet Cupboard is providing updates, as well as information about other resources, on its Twitter and Facebook channels.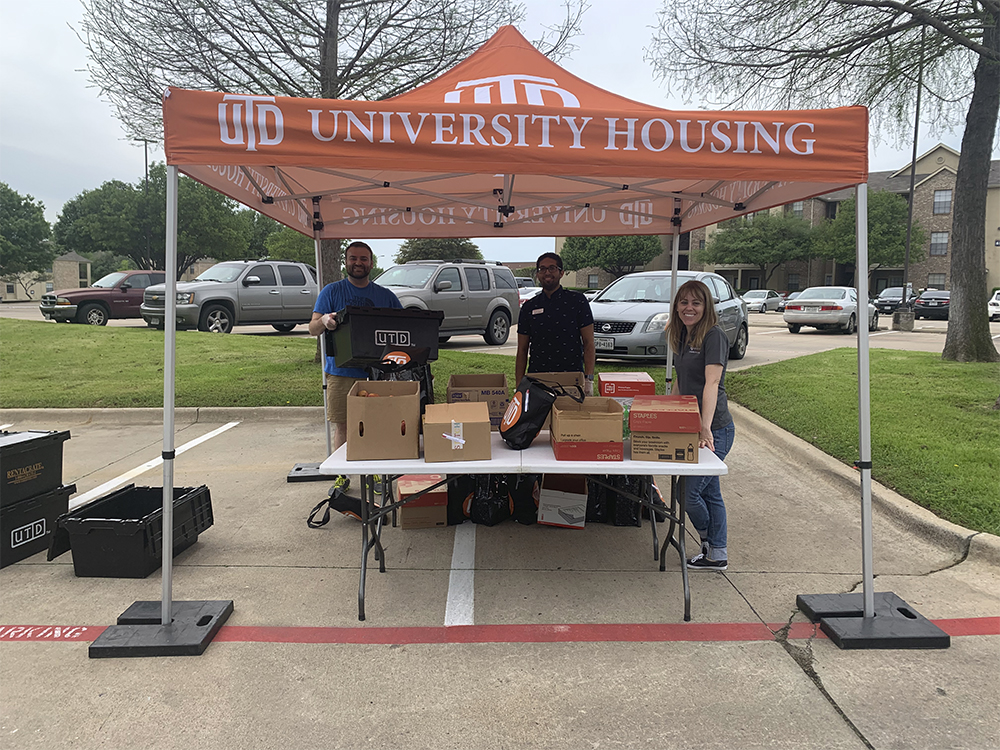 UT Dallas staff members help distribute food and personal care items at the Comet Cupboard's April 8 event. From left, Matthew Winser-Johns, assistant director of LGBT+ programs at the Galerstein Gender Center; Chris West, front desk assistant with housing operations; and Ashleigh Beckmann, assistant director of housing operations.
UPDATE
The Comet Cupboard staff recently reached out to UT Dallas' Housing and Building Operations for assistance in the campus food pantry's distribution efforts.
At earlier pick-up opportunities in April, some students who live on campus were having trouble transporting their boxes to their residence halls or apartments. Working together, the staff members came up with a plan for distribution outside the University Village office, where students could pick up their boxes at a designated time, while the housing operations staff manned the table.
"It was so rewarding to serve our residents through the Comet Cupboard's food distribution," said Ashleigh Beckman, assistant director of housing operations. "I can't imagine the stress our students feel, from online classes, paying rent and bills, caring for loved ones, and trying to stay healthy. Coming together to lift a tiny bit of their burden made me so proud to be a member of the UT Dallas community."
Approximately 24 students received boxes. Housing Operations also donated 150 tote bags to the Comet Cupboard for future use.
–Brittany Magelssen